Sherry wears a Japanese style school uniform.

Her white jacket buttons up the front with blue buttons.
It has a blue sailor collar with a white stripe and
her pockets and cuffs have blue piping.

Under her jacket you can just see a white top.

Her blue shorts are long and baggy, with a white stripe near the bottom.

She has white socks with two blue stripes and wears blue shoes.

She wears a round gold locket on a long chain.

Her blonde hair is cut in a short bob and held with a red alice band.
Her long fringe is center parted and tucked behind her ears.

Sometimes she wears Claire's pink denim top.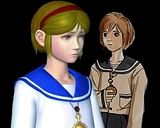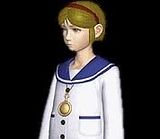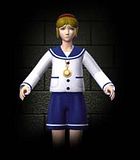 Sherry in The Darkside Chronicles