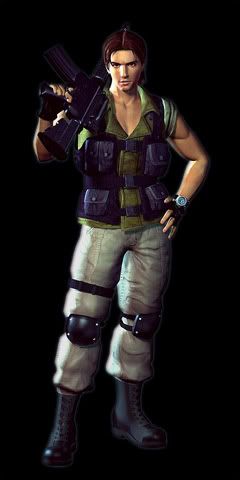 Carlos wears an olive shirt with the sleeves rolled high
and the front of his shirt is open and unseen.

His dark green padded bodywarmer has a fold down collar and lapels.

Over this he wears a black utility jacket with three webbed straps across his chest.
This has four sets of pouches for plenty of storage.
On the back of this jacket (as seen in some of the screen grabs below) is the Umbrella logo.

Carlos wears grey combat pants and big black lace up boots.

He has knee pads and a webbed strap around his right thigh.

He wears black fingerless gloves and a silver-faced watch on his left wrist.

His dark hair is center-parted and down to his shoulders at the back, much shorter at the front.