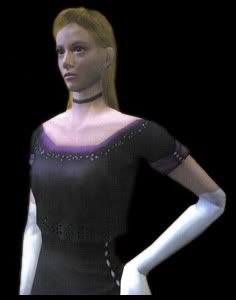 Alexia wears a lovely purple dress that reaches to the floor.

The bodice is fitted, low cut and has short sleeves.
The dress has lots of layers, the first is the bodice extended downwards to the hip.
Each layer is rounded at the bottom with pretty pale lace trim.
There are four layers (one is the bodice) of what looks like velvet.
The final bottom layer is a lighter (weight) fabric that extends all the way up the dress.
All the rounded layers are split at the left side to reveal that lighter fabric.
The cuffs of the sleeves and top of the bodice have a brighter purple fabric on them.
There are white buttons at the left of the bodice.

She has a black ribbon choker around her neck and wears white opera gloves.

It's very hard to find Alexia pictures, but there is one full length one below.