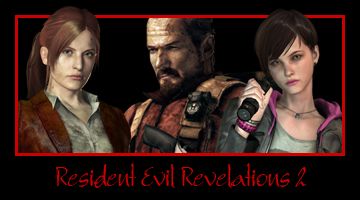 This is a complete guide to all of the Tresure Chests hidden throughout the Resident Evil Revelations 2 Raid Mode. We have included pictures of each Chest to help you identify the exact location.
Treasure Chests contain Weapons and Parts which are invaluable if you wish to effectively tackle even the hardest stages. After opening Chests a visual clue will appear as to the identity of the item picked up. In the Raid Mode Vestibule, you must then use the Jukebox to evaluate (or sell) items. There are numerous colours ranging from black (common items) to purple (very rare and high powered items) to help you make a choice. If you retire from a mission or die and choose not to continue, you will lose all of the items you have picked up in that stage.
We recommend that you have played through the relevant stage at least once before using our guide, because we do not hold your hand between Chests or tell you what to kill, when or how.
Some stages have a time limit which makes collecting Chests more difficult. However, we have managed to open all Chests and still complete those stages with time to spare. Any time displayed in our pictures should not be used as a guide, as we played through numerous times to find the Chests at the expense of completing the stage in a good time.
From Normal to Very Hard, there are three Chests per stage. Code Red offers an extra Chest for your efforts.
Each stage is based on a map from recent Resident Evil games. We have identified the general location each time.
We hope that our guide is useful to you. Please enjoy!
Normal
Gauntlet I
I-01 - Resident Evil 6 - The Sewer
I-02 - Resident Evil 6 - Market
I-03 - Resident Evil 6 - The Town
I-04 - Resident Evil 6 - Campus
I-05 - Resident Evil 6 - Water Channel
I-06 - Resident Evil 6 - Gun Shop
Gauntlet II
II-01 - Resident Evil 6 - Snow Covered Mountain
II-02 - Resident Evil 6 - Catacombs
II-03 - Resident Evil Revelations 2 - Forest
II-04 - Resident Evil 6 - Subway
II-05 - Resident Evil 6 - Underwater Facility - Lower Levels
II-06 - Resident Evil Revelations - Casino
Gauntlet III
III-01 - Resident Evil 6 - Cave
III-02 - Resident Evil 6 - Research Facility - Detention Center
III-03 - Resident Evil 6 - City In Eastern Europe
III-04 - Resident Evil 6 - Research Facility - Living Quarters
III-05 - Resident Evil Revelations 2 - Prison
III-06 - Resident Evil 6 - Poisawan Entrance
Gauntlet IV
IV-01 - Resident Evil 6 - Research Facility - Detention Center
IV-02 - Resident Evil 6 - The Town
IV-03 - Resident Evil 6 - Market
IV-04 - Resident Evil 6 - Quad Tower - Entrance
IV-05 - Resident Evil 6 - Subway
IV-06 - Resident Evil 6 - Stilt Housing Area
Gauntlet V
V-01 - Resident Evil 6 - Gun Shop
V-02 - Resident Evil 6 - Emergency Escape Route
V-03 - Resident Evil 6 - The Bridge
V-04 - Resident Evil Revelations 2 - Lava Path
V-05 - Resident Evil 6 - Inside The Airplane
V-06 - Resident Evil 6 - Catacombs
Gauntlet VI
VI-01 - Resident Evil 6 - The Bridge
VI-02 - Resident Evil 6 - Subway
VI-03 - Resident Evil 6 - Market
VI-04 - Resident Evil Revelations 2 - Playground
VI-05 - Resident Evil 6 - Emergency Escape Route
VI-06 - Resident Evil Revelations 2 - Village
Gauntlet VII
VII-01 - Resident Evil 6 - Snow Covered Mountain
VII-02 - Resident Evil Revelations 2 - The Slaughterhouse
VII-03 - Resident Evil 6 - Research Facility - Entrance
VII-04 - Resident Evil 6 - Aircraft Carrier
VII-05 - Resident Evil Revelations 2 - The Slaughterhouse
VII-06 - Resident Evil Rvelations 2 - Warehouse
Gauntlet VIII
VIII-01 - Resident Evil 6 - The Sewer
VIII-02 - Resident Evil 6 - Campus - Visitors Room
VIII-03 - Resident Evil 6 - Forest Cemetery
VIII-04 - Resident Evil Revelations 2 - Playground
VIII-05 - Resident Evil Revelations 2 - Foundry
VIII-06 - Resident Evil Revelations 2 - Warehouse
Gauntlet IX
IX-01 - Resident Evil 6 - Campus - Visitors Room
IX-02 - Resident Evil Revelations - Main Hall
IX-03 - Resident Evil Revelations 2 - Sewer
IX-04 - Resident Evil 6 - In Front Of City Hall
Hard
Gauntlet I
I-01 - Resident Evil 6 - The Sewer
I-02 - Resident Evil 6 - Market
I-03 - Resident Evil 6 - The Town
I-04 - Resident Evil 6 - Campus
I-05 - Resident Evil 6 - Water Channel
I-06 - Resident Evil 6 - Gun Shop
Gauntlet II
II-01 - Resident Evil 6 - Snow Covered Mountain
II-02 - Resident Evil 6 - Catacombs
II-03 - Resident Evil Revelations 2 - Forest
II-04 - Resident Evil 6 - Subway
II-05 - Resident Evil 6 - Underwater Facility - Lower Levels
II-06 - Resident Evil Revelations - Casino
Gauntlet III
III-01 - Resident Evil 6 - Cave
III-02 - Resident Evil 6 - Research Facility - Detention Center
III-03 - Resident Evil 6 - City In Eastern Europe
III-04 - Resident Evil 6 - Research Facility - Living Quarters
III-05 - Resident Evil Revelations 2 - Prison
III-06 - Resident Evil 6 - Poisawan Entrance
Gauntlet IV
IV-01 - Resident Evil 6 - Research Facility - Detention Center
IV-02 - Resident Evil 6 - The Town
IV-03 - Resident Evil 6 - Market
IV-04 - Resident Evil 6 - Quad Tower - Entrance
IV-05 - Resident Evil 6 - Subway
IV-06 - Resident Evil 6 - Stilt Housing Area
Gauntlet V
V-01 - Resident Evil 6 - Gun Shop
V-02 - Resident Evil 6 - Emergency Escape Route
V-03 - Resident Evil 6 - The Bridge
V-04 - Resident Evil Revelations 2 - Lava Path
V-05 - Resident Evil 6 - Inside The Airplane
V-06 - Resident Evil 6 - Catacombs
Gauntlet VI
VI-01 - Resident Evil 6 - The Bridge
VI-02 - Resident Evil 6 - Subway
VI-03 - Resident Evil 6 - Market
VI-04 - Resident Evil Revelations 2 - Playground
VI-05 - Resident Evil 6 - Emergency Escape Route
VI-06 - Resident Evil Revelations 2 - Village
Gauntlet VII
VII-01 - Resident Evil 6 - Snow Covered Mountain
VII-02 - Resident Evil Revelations 2 - The Slaughterhouse
VII-03 - Resident Evil 6 - Research Facility - Entrance
VII-04 - Resident Evil 6 - Aircraft Carrier
VII-05 - Resident Evil Revelations 2 - The Slaughterhouse
VII-06 - Resident Evil Rvelations 2 - Warehouse
Gauntlet VIII
VIII-01 - Resident Evil 6 - The Sewer
VIII-02 - Resident Evil 6 - Campus - Visitors Room
VIII-03 - Resident Evil 6 - Forest Cemetery
VIII-04 - Resident Evil Revelations 2 - Playground
VIII-05 - Resident Evil Revelations 2 - Foundry
VIII-06 - Resident Evil Revelations 2 - Warehouse
Gauntlet IX
IX-01 - Resident Evil 6 - Campus - Visitors Room
IX-02 - Resident Evil Revelations - Main Hall
IX-03 - Resident Evil Revelations 2 - Sewer
IX-04 - Resident Evil 6 - In Front Of City Hall
Very Hard
Gauntlet I
I-01 - Resident Evil 6 - The Sewer
I-02 - Resident Evil 6 - Market
I-03 - Resident Evil 6 - The Town
I-04 - Resident Evil 6 - Campus
I-05 - Resident Evil 6 - Water Channel
I-06 - Resident Evil 6 - Gun Shop
Gauntlet II
II-01 - Resident Evil 6 - Snow Covered Mountain
II-02 - Resident Evil 6 - Catacombs
II-03 - Resident Evil Revelations 2 - Forest
II-04 - Resident Evil 6 - Subway
II-05 - Resident Evil 6 - Underwater Facility - Lower Levels
II-06 - Resident Evil Revelations - Casino
Gauntlet III
III-01 - Resident Evil 6 - Cave
III-02 - Resident Evil 6 - Research Facility - Detention Center
III-03 - Resident Evil 6 - City In Eastern Europe
III-04 - Resident Evil 6 - Research Facility - Living Quarters
III-05 - Resident Evil Revelations 2 - Prison
III-06 - Resident Evil 6 - Poisawan Entrance
Gauntlet IV
IV-01 - Resident Evil 6 - Research Facility - Detention Center
IV-02 - Resident Evil 6 - The Town
IV-03 - Resident Evil 6 - Market
IV-04 - Resident Evil 6 - Quad Tower - Entrance
IV-05 - Resident Evil 6 - Subway
IV-06 - Resident Evil 6 - Stilt Housing Area
Gauntlet V
V-01 - Resident Evil 6 - Gun Shop
V-02 - Resident Evil 6 - Emergency Escape Route
V-03 - Resident Evil 6 - The Bridge
V-04 - Resident Evil Revelations 2 - Lava Path
V-05 - Resident Evil 6 - Inside The Airplane
V-06 - Resident Evil 6 - Catacombs
Gauntlet VI
VI-01 - Resident Evil 6 - The Bridge
VI-02 - Resident Evil 6 - Subway
VI-03 - Resident Evil 6 - Market
VI-04 - Resident Evil Revelations 2 - Playground
VI-05 - Resident Evil 6 - Emergency Escape Route
VI-06 - Resident Evil Revelations 2 - Village
Gauntlet VII
VII-01 - Resident Evil 6 - Snow Covered Mountain
VII-02 - Resident Evil Revelations 2 - The Slaughterhouse
VII-03 - Resident Evil 6 - Research Facility - Entrance
VII-04 - Resident Evil 6 - Aircraft Carrier
VII-05 - Resident Evil Revelations 2 - The Slaughterhouse
VII-06 - Resident Evil Rvelations 2 - Warehouse
Gauntlet VIII
VIII-01 - Resident Evil 6 - The Sewer
VIII-02 - Resident Evil 6 - Campus - Visitors Room
VIII-03 - Resident Evil 6 - Forest Cemetery
VIII-04 - Resident Evil Revelations 2 - Playground
VIII-05 - Resident Evil Revelations 2 - Foundry
VIII-06 - Resident Evil Revelations 2 - Warehouse
Gauntlet IX
IX-01 - Resident Evil 6 - Campus - Visitors Room
IX-02 - Resident Evil Revelations - Main Hall
IX-03 - Resident Evil Revelations 2 - Sewer
IX-04 - Resident Evil 6 - In Front Of City Hall
Code Red
Gauntlet I
I-01 - Resident Evil 6 - The Sewer
I-02 - Resident Evil 6 - Market
I-03 - Resident Evil 6 - The Town
I-04 - Resident Evil 6 - Campus
I-05 - Resident Evil 6 - Water Channel
I-06 - Resident Evil 6 - Gun Shop
Gauntlet II
II-01 - Resident Evil 6 - Snow Covered Mountain
II-02 - Resident Evil 6 - Catacombs
II-03 - Resident Evil Revelations 2 - Forest
II-04 - Resident Evil 6 - Subway
II-05 - Resident Evil 6 - Underwater Facility - Lower Levels
II-06 - Resident Evil Revelations - Casino
Gauntlet III
III-01 - Resident Evil 6 - Cave
III-02 - Resident Evil 6 - Research Facility - Detention Center
III-03 - Resident Evil 6 - City In Eastern Europe
III-04 - Resident Evil 6 - Research Facility - Living Quarters
III-05 - Resident Evil Revelations 2 - Prison
III-06 - Resident Evil 6 - Poisawan Entrance
Gauntlet IV
IV-01 - Resident Evil 6 - Research Facility - Detention Center
IV-02 - Resident Evil 6 - The Town
IV-03 - Resident Evil 6 - Market
IV-04 - Resident Evil 6 - Quad Tower - Entrance
IV-05 - Resident Evil 6 - Subway
IV-06 - Resident Evil 6 - Stilt Housing Area
Gauntlet V
V-01 - Resident Evil 6 - Gun Shop
V-02 - Resident Evil 6 - Emergency Escape Route
V-03 - Resident Evil 6 - The Bridge
V-04 - Resident Evil Revelations 2 - Lava Path
V-05 - Resident Evil 6 - Inside The Airplane
V-06 - Resident Evil 6 - Catacombs
Gauntlet VI
VI-01 - Resident Evil 6 - The Bridge
VI-02 - Resident Evil 6 - Subway
VI-03 - Resident Evil 6 - Market
VI-04 - Resident Evil Revelations 2 - Playground
VI-05 - Resident Evil 6 - Emergency Escape Route
VI-06 - Resident Evil Revelations 2 - Village
Gauntlet VII
VII-01 - Resident Evil 6 - Snow Covered Mountain
VII-02 - Resident Evil Revelations 2 - The Slaughterhouse
VII-03 - Resident Evil 6 - Research Facility - Entrance
VII-04 - Resident Evil 6 - Aircraft Carrier
VII-05 - Resident Evil Revelations 2 - The Slaughterhouse
VII-06 - Resident Evil Rvelations 2 - Warehouse
Gauntlet VIII
VIII-01 - Resident Evil 6 - The Sewer
VIII-02 - Resident Evil 6 - Campus - Visitors Room
VIII-03 - Resident Evil 6 - Forest Cemetery
VIII-04 - Resident Evil Revelations 2 - Playground
VIII-05 - Resident Evil Revelations 2 - Foundry
VIII-06 - Resident Evil Revelations 2 - Warehouse