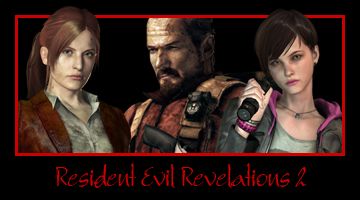 This is a guide to all 24 of the Kafka Drawings hidden in Claire's Campaign of
Resident Evil Revelations 2
. We have included pictures of each one to assist you.
There are six Drawings per Episode and always appear in the same order. The first is always a fencing man, the second is a man slumped on the floor, the third is a man within a fence, the fourth is a man with his head on a desk, the fifth is a man at a blackboard and the sixth is a man skiing. That's how we see them anyway!
In order to collect the Drawings you need to focus Moira's flashlight beam on them until she says "What's this?" They will be very faint until you do this and then they will always be clearly visible.
This walkthrough is NOT spoiler-free, so we recommend that you have played through the whole game at least once before using our guide. We also do not hold your hand between Drawings or tell you what to kill, when or how. Any times in our pictures are not necessarily representative of the time you will find the Drawings.
Episode 1 - Penal Colony
Episode 2 - Contemplation
Episode 3 - Judgment
Episode 4 - Metamorphosis
This guide was made using the PS3 version of Resident Evil Revelations 2 and no other walkthroughs.

Please do not reproduce any or all of this guide anywhere without permission.