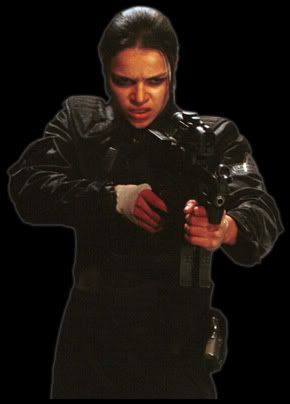 Rain wears a black short sleeved t-shirt with a round neck.

Over this she wears a heavy duty black jacket.
Her jacket has her name on the left side and a logo
on the left arm that reads "SANITATION".
It's quite hard to see in these shots, but I'm pretty sure that's what it says.

She also wears black combat pants over big black boots.

On her right wrist she has a huge black watch.

At different times in the film she wears different things over this basic uniform.
She wears a gas mask, a welding mask and numerous rigs with straps for weapons,
including a knife at her right thigh and a torch.
One of these rigs, or perhaps her jacket, has an "S" logo on it.

She also sometimes wears large padded gloves.

Her communication gear is often around her neck rather than in her ear.

Her dark hair is pulled into a ponytail with straps all the way down it.
There are loose strands of hair around her face.