1. Assignment Ada

This is the black outfit pictured.

Ada wears a high neck, short sleeved black top, cropped to her navel.
On the right sleeve is a print of a butterfly, like the ones on Ada's main game dress.

Over this she wears a dark blue tactical vest with black straps that also ends at her navel.

Ada wears form fitting black pants with black nearly knee high boots.
The boots have a chunky heel a few inches high, and have two straps around the top.

She has a brown leather belt with a pouch on the right side at the back,
and what looks like it might be a radio on the other side.

Her belt is held in pace by straps which go around her thigh.

She has a leg holster on her right leg and wears black fingerless gloves.

2. The Mercenaries

This is the red outfit pictured, and is modelled on Ada's Resident Evil 2 outfit.

Ada wears a form fitting scarlet dress that reaches her mid-thigh.
The dress has two seams running down the center of the dress, the whole length.
The dress has a low back and a halterneck strap.

She has black straps across her shoulders that have pouches on them.
A connecting strap goes across her chest so that her shoulder straps don't fall off.

She has a wide black belt that fastens with a big round silver clasp.

She has a thinner belt under this one with a small bag on the back, like a bum bag/fanny pack.

Ada has a black band around her upper right arm, possibly for housing bullets.

She wears black tights/stockings/hose that look like they are patterned, possibly fishnet.

She wears matching red shoes with a high heel and a silver/white band across the top.

Ada has painted her nails a coral pink and wears black fingerless gloves.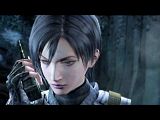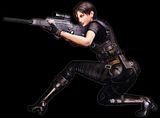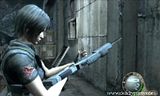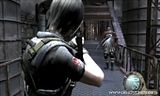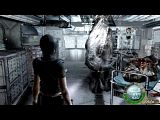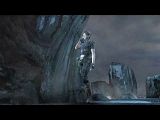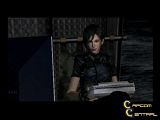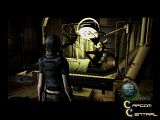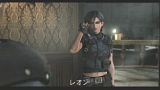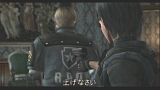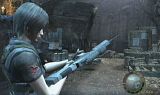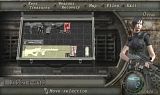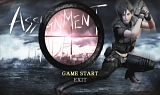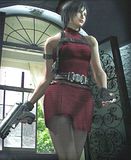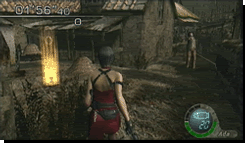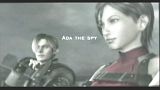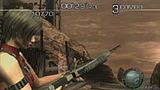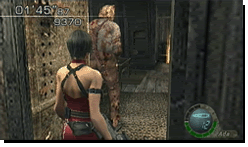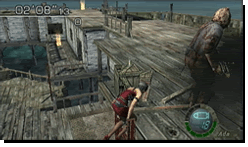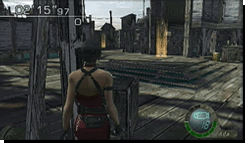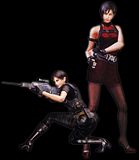 Ada in The Darkside Chronicles - Resident Evil 2/The Mercenaries Outfit