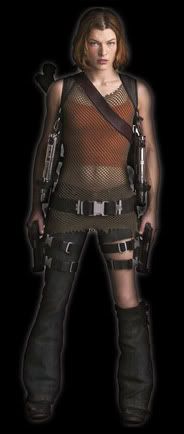 Alice wears a cropped orange vest with spaghetti straps.

Over her vest she has a tattered olive string vest,
sleeveless, with a scooped neckline.
The string vest comes down to the level of a short mini skirt.

She wears dark grey/faded black jeans, bootcut and hipster style.
Earlier in the film her trousers are complete, but they get ripped.
Once ripped, the middle part of her left trouser leg is
missing, from above her leg holsters to below her knee.

Her boots are dark leather and cowboy style, with a small heel.

She wears many different holsters, including
a webbed belt with double strapped leg holsters.
She also has twin shoulder holsters and a leather
strap slung across her chest for her shotgun.

Her hair is dirty blonde and roughly cut to
just above her shoulders.
It is center parted.