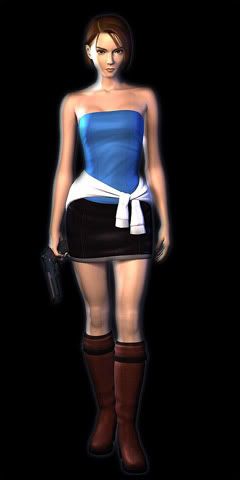 Jill wears a close fitting blue top, strapless, that goes to about hip level.
It has two seams down the front for a great fit.

Her skirt is black with a line of grey running around the bottom.
This also has two seams down the front, but slightly wider apart than the seams on her top.
The skirt is short and covers about half her thighs.

Her boots are knee length and brown, with a small heel and black trim at the top.

A white jumper is tied loosely around her waist.

Her hair is auburn and styled in a short layered bob.

She carries a Beretta, at least to start the game.

Not shown in this picture, but shown in pictures below, is her extra backpack.
This is an olive green webbed rig, with a belt and two shoulder straps
which cross at the back, with black pouches for extra storage.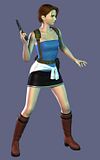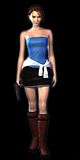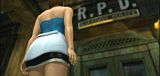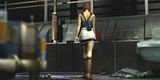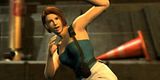 Jill in The Umbrella Chronicles