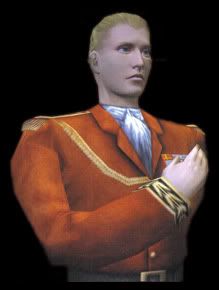 Alfred wears a red military style jacket that comes to his mid-thighs.
The jacket has gold epaulettes with fringing and a gold
fringe running from the right shoulder to the center.
The jacket has gold and black trim around the cuffs.
The jacket has gold buttons down the front.

On the left side of his jacket he has a gold medal.

Over his jacket he wears a wide brown leather belt with a gold buckle.

His trousers are white with a red stripe down the outside.

He wears a white shirt with a white cravat.

Alfred wears black dress shoes.

His hair is a striking blond, the same colour as his sister, Alexia.
It is cut short and combed back.