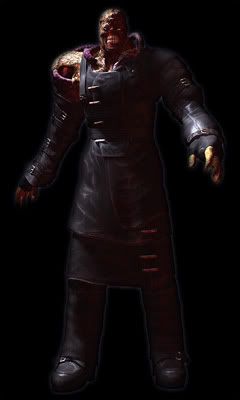 Nemesis has a fantastic bondage-style leather ensemble.

His coat comes to just above his knees, and has a separate front panel.
It is sleeve less and has metal toggles, with a metal staple in the bottom.
He has two straps around his chest and one over his right shoulder.

His underskirt is about knee length and has two staples in the bottom left.

He has long leather trousers that cover his boots.
He has leather gauntlets covering his arms.
They are held together with plenty of straps and buckles.

He also wears black fingerless gloves.

He has several purple tubes/tentacles, staples in his
head and across his right eye, and has no skin where
his mouth should be, revealing many large teeth.
His one good (left) eye is white.

He is often seen with a huge rocket launcher!