Claire wears a one piece black stretch body suit, with a high neckline and short legs and sleeves.

Over this she wears a pink denim jacket, zipped at the front, with a brown collar.
On the back of her jacket it say "Made in Heaven" above
the picure of a woman in a short white dress with wings.
On her left shoulder is a brown sheath for her knife.

Her shorts are also pink denim and are very short, with frayed hems.

She wears a grey belt and tan knee-high boots with a lighter coloured turn-over at the top.
The boots have a strap across the foot with a silver buckle.

She has black fingerless gloves.

Her hair is dark brown and is tied in a ponytail.
She has a long fringe which is parted in the center and tucked behind her ears.

At one point she takes off her jacket to give to Sherry and wears
a brown leather two shouldered holster with her knife attached.
You can see it in some shots below.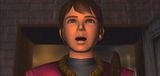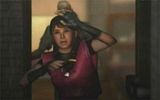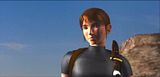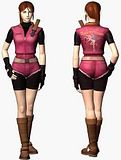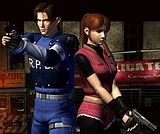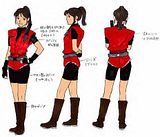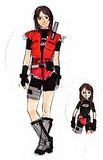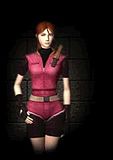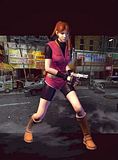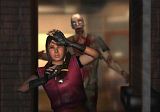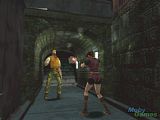 Claire in The Darkside Chronicles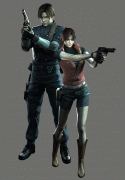 Claire's outfit has been slightly updated for this game.

Her one-piece body suit has become a t-shirt and shorts and her pink shorts are now blue denim.

Her brown leather belt has a pouch on the right side with a white fringe.

She now has brown cowboy-style boots.

Claire also now has sunglasses hanging around her neck.