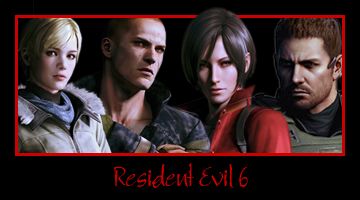 13. Chapter 4.1 - City And Highway - You can only get this emblem with Sherry. During the motorcycle chase, you will reach a section where you have to shoot a tanker in slow motion. The emblem is on a sign slightly up and left (we have circled it in red). It must be shot before you blow up the tanker. There is a small, but ample, window to do both.
14. Chapter 4.3 - Poisawan - Shopping District - While following the path, jumping over obstacles, you will reach an area with a flashing pink sign and J'avo running left ahead of you. There will be an overturned taxi next to a "pedestrians" sign to your left. Head around the taxi to see the emblem on the windscreen of the white car (registration number KZ-495).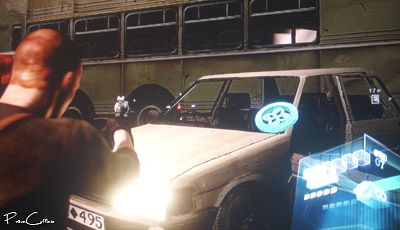 15. Chapter 4.4 - Shopping District - Once you have fallen through the canopies, turn to your left and head past the overturned truck. The emblem is in a dark corner, next to a green kiosk.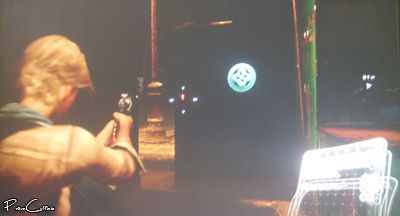 16. Chapter 4.4 - Shopping District - Once you leave through the gate that Sherry opened, follow the path around and climb the ladder. Stand facing the railing and aim down and right to the emblem, which is leaning against a green kiosk with a "hair salon" sign above it. Alternatively, the emblem can be shot through a gap in boxes to the bottom right of the ladder before you climb up.