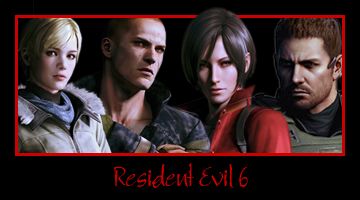 9. Chapter 3.1 - Altar Corridor - Walk down the slope through the dark tunnel into the room with two levers. Look up high to your left to see the emblem.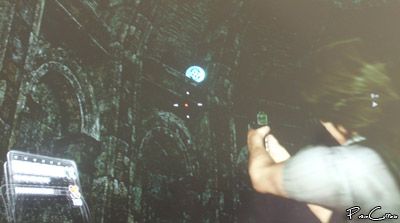 10. Chapter 3.2 - Catacombs - After you open the door with the Simmons Family Ring, you will enter a water filled area with a large marine creature. Follow the watery path until you find a sandy path to your right. The third coffin on your left, before the bend in the path, can be examined to reveal the emblem.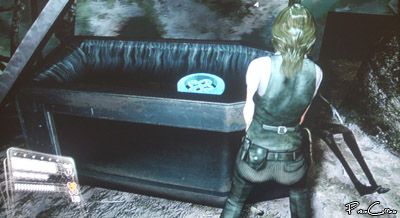 11. Chapter 3.3 - Cavern - As Helena, when you get separated from Leon, follow the path around, fighting a Whopper and a Shrieker. The emblem can clearly be seen on a ledge to your left, before a wooden bridge. As Leon, when you are waiting for Helena to lower the bridge, face the bridge, then look to the right and the emblem will be in the distance (we have circled this in red). A distant flame should help you find it. Use the sniper rifle to hit this one. This emblem can also be spotted in the distance at various points on the walkway after crossing the lowered bridge.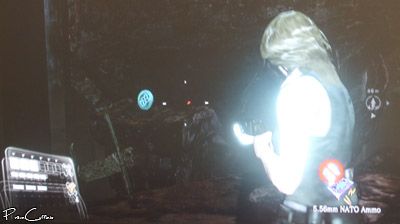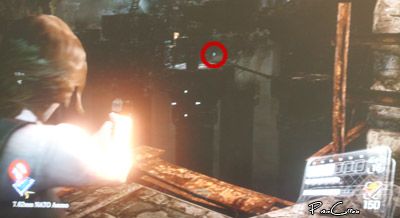 12. Chapter 3.4 - Underground Water Channel - After swimming through the tunnels and escaping Brzak (the shark B.O.W.), the characters will be separated. As Helena, cross the wooden bridge and follow the path. The emblem is in a broken barrel on the left, next to some 5.56mm NATO Ammo. As Leon, you must backtrack to this area using the ladder to the right when you finally escape Brzak and reach dry land.