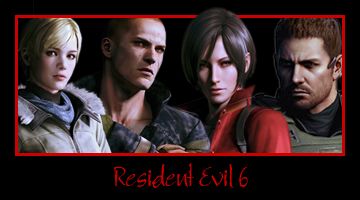 17. Chapter 5.1 - Underwater Facility - As Chris, once Piers has stopped the first fan, crawl through and you will see the emblem on an overhead pipe as you exit. As either character, you can also get this before Piers is thrown over the gap, by jumping down the ladder and using the sniper rifle through the spinning fan.
18. Chapter 5.1 - Underwater Facility - When power is restored to the elevator and you are reunited with your partner, open the double doors with them. You will enter a room with a large table and two blue computer screens. Immediately look up and right to see the emblem in an air duct. You may have to move in this direction to see it. You will be under heavy fire at this point.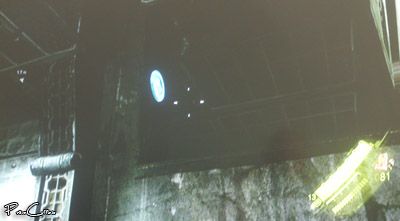 19. Chapter 5.4 - Emergency Escape Route - After running through the underwater tunnel shooting Haos' hands, one character will hold the shutter while the other climbs up. Once safe, turn immediately left and the emblem is against a pipe on the floor.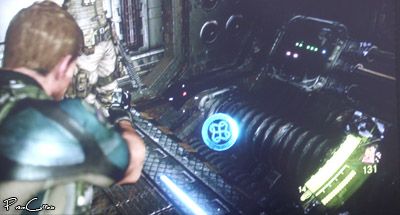 20. Chapter 5.5 - Emergency Escape Route - After defeating Haos, you will enter an area with a collapsing walkway and B.O.W. blockages which Piers must destroy. When you reach the third blockage, stand on the right side of the walkway and aim right and down at a light. The emblem is slightly above. You can hit this easily with the grenade launcher as you will be short of time and the spread makes aiming easier. You can hit this as Piers, but it is trickier as you also have to destroy the barrier within the time limit. A very quick burst of his arm aimed at the emblem before you destroy the barrier is the way to go. To prepare yourself, you can see this emblem extremely briefly in the cutscene which starts this section.